Day 4 was yesterday but I forgot to write stuff.  Which is incredibly bad form considering the whole "let's pretend that I am really scared about playing basketball" thing I had going on.
Right, pretending.
So I actually woke up on time to go play.  It helped that I kept having dreams that it was time to get up, then I would wake up and check my watch and see that there were still hours to go.
Playing actually went well, the criteria for that being the fact that I didn't get injured.  Much.  Just a couple of blisters and sore muscles.  And I made a couple of baskets.  And overall I don't think I embarrassed myself.  Not that I'm aware of at least.  I still am not a huge fan of playing shirts and skins for teams.  WAY too much other man sweat gets on you.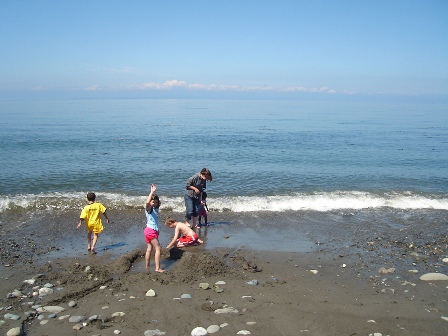 After that we all decided to head to the beach.  We had the luxury of using a friends private beach.  Very cool.  And the sun even showed up for the afternoon.  Nicest day by far we've had on the trip and we spent it sitting beside the ocean.  The kids spent a few hours playing in the sand (rocks?) and surf, and the grownups just sat there.  Perfect.
Michelle and Judy also found a dead seal.  Michelle thought it was cool, can you see why I love her?
The rest of the day was filled with games.  Catan, Ticket to Ride and Monopoly City.  Good times.  And supper was TWO kinds of enchiladas.  Oh man, that was good eating.
Today we're hoping to stop off in Bremerton and visit the navy base.  There is a pretty cool tour of an old destroyer we want to take and then there are a few aircraft carriers docked close by that we want to go see.  Then off to Newberg.
/RD