This is one of my favourite pictures from our vacation this summer. It occurred on August 14th, which was our 15th anniversary.  It's pretty obvious that I'm on one knee holding an open ring box.  And Michelle is laughing.  Which begs the question (and many of you who saw the picture asked it).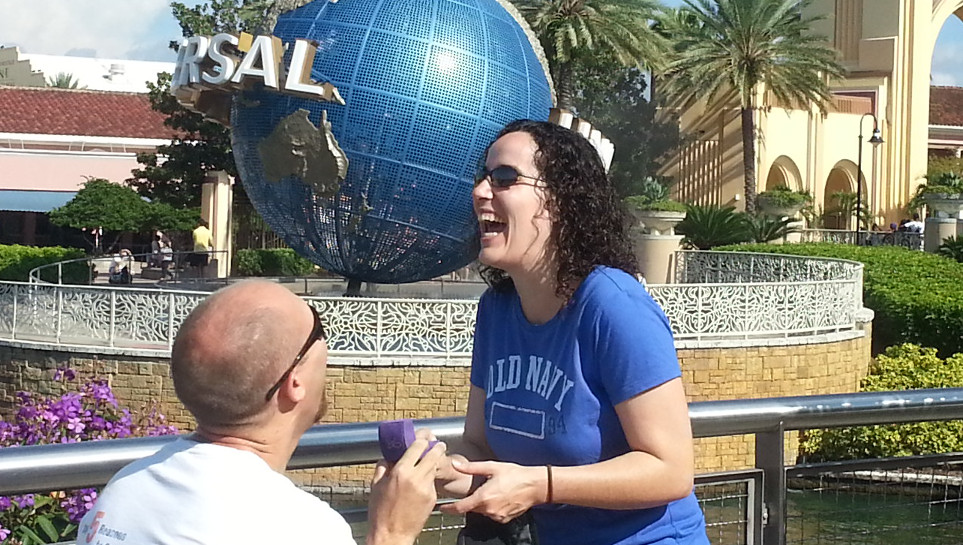 Why is she laughing so hard?
A long, long time ago I asked a pretty girl to marry me.  (Yes, the pretty girl was Michelle.)  I gave her the most expensive ring I could afford, which we found at a jewelry store that was going out of business.  70% off baby!  "The question" was asked up in the mountains beside a rather large waterfall and all I can remember thinking as I gave her the ring was "Ryan, don't you dare drop this ring in that water."  I guess I must have mumbled something about "marry me" in the conversation because she said "yes!".  The one regret from that day I have is that I was so nervous about dropping the ring that I forgot to get down on one knee like many people expect you to.  I've said numerous times since then that I wish I hadn't forgot that part, although Michelle says it wasn't important. 
Later that summer we were married in another affordable ceremony.  Instead of getting another ring to go with her engagement one, we had two bands welded on either side of her engagement ring.  Again, it was what we could afford.  But it looked good and the key was that we were married!
Over the years that ring took a bit of a beating.  I'll spare you the technical details, but it was a little worn out.  Finally, as we prepared to head to Mexico in 2008 we decided to put our wedding rings away and purchased some cheaper versions.  We didn't want to take a chance of one of the rings getting busted or lost while we were gone.
And that was where our original wedding rings stayed.  In their respective store boxes not being worn any longer.  Michelle mentioned a few times over that time that she wished she could wear her ring again, but it would need to be repaired.  But we never got around to getting it fixed.
Fast forward now to the spring of this year.  Our 15th anniversary was coming up and I wanted to do something bigger than normal for her.  You know, like going to Fuddruckers instead of Wendy's.  I asked Michelle what she would like and she answered, "get my ring fixed.  That's all I want."  So I told her I would make it happen.
This conversation happened right before we went into the busy season in our ministry.  I was working 80 hour weeks while she was working her new job.  Somehow in there we were also trying to be with the kids and get a little rest.  Michelle assumed that I had no time to get her ring repaired, and she was mostly right.  But in those two months I was able to carve out an afternoon with the kids and we secretly took her ring to a jeweler and got it repaired.  I swore the kids to secrecy as I told them my plan to give the ring to Michelle on our upcoming vacation at Universal Studios.  (note: 7 year olds aren't good at keeping secrets)
It was an amazing plan.  I would secretly bring the ring with us to Orlando.  Then on our anniversary, I would quietly slip my original wedding ring on and bring hers to the park.  And in one gigantically romantic moment I would get down on one knee like I should have at our engagement and present her ring to her.  I AM THE GREATEST HUSBAND EVER!!!!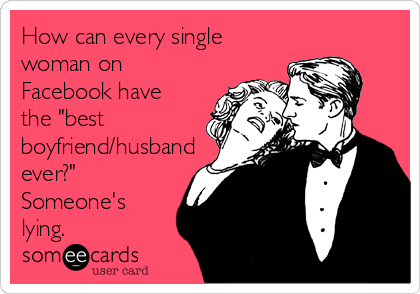 On the morning of the big day, I went into the bathroom at the hotel because that is the only place someone can get a little privacy.  (am I right?)  I was able to quietly pull both ring boxes from my backpack and take them with me.  I opened the first box and took my ring out and put it on.  I then slid both boxes into the pockets of my cargo shorts.  I walked out of the bathroom certain I was going to be busted, but somehow was able to put the empty box back without getting caught.  Her ring was now in my pocket and the plan was in motion.
As we get to the park, the kids see the giant Universal Studios globe and say "can we get pictures in front of it?"  Of course!  This was all part of the plan.  I can't say enough how proud I am of the devious nature of the two older kids.  (I am also a little worried.)  I take a couple pictures of the kids in front of the globe, and then give the older daughter my phone and say "now get one of me and Mom."
We take a couple shots there and Michelle seems ready to go.  But I say, "hold on, there's one more to do."  She looks at me a little funny.
And then I get down on one knee.  She looks at me with a little more confusion.
I pull out the ring box and open it.  Presenting it like any good romantic man should.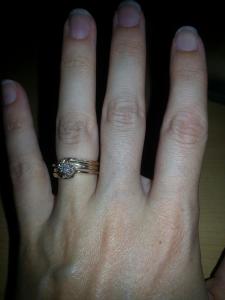 And she bursts out laughing!  I cannot figure out why she's laughing so hard.  This was easily the most amazing, romantic thing I have ever done!  I can only imagine what people walking by are thinking.
"Is the box supposed to be empty?" she asks.  "WHAT?!?"  I reply as I look into the empty ring box.  And I realize what happened.  Her ring is back in the hotel room.  I had put the wrong box away in my back pack.  Sigh.  It was so close to being the perfect gift and presentation.
But I guess I have something to aim towards for August 14th, 2029!