You'd think I'd find some time to post more regular updates on this 30 Days of Insanity tour, and yet here it is June 26 and I think I've only actually put 2 updates.  And one of them was a cream puff picture gallery!
So since we last updated y'all on this trip we've done the following:
Drove to Red Deer, visited family.  Inaugurated the All-Strohschein cousin Slurpee Run.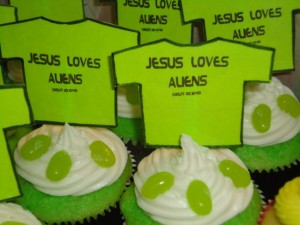 Took a 14 hour drive from Airdrie to Snohomish, WA.  That was the longest day yet, and thankfully there should be none close to that one in duration.  Also, this was the day that we found the fabled Canadian Thimble!  We stopped in at a little gift shop in Field, BC on the side of the highway and blammo!  It was hilarious how many of our friends commented that they too were searching for a thimble and couldn't find one.  Our last resort was to buy a Canadian shot glass and just say that this is what we use for thimbles in Canada.  Michelle's aunt made a bunch of amazing cupcakes to go with our big family supper the following night. (or "dinner" as I'm told Americans call it.  I could go on for a bit about the apparent difference…) The best looking ones being the "Jesus Loves Aliens" cupcake.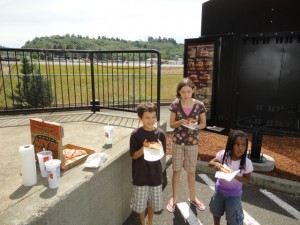 We then drove down the I-5 to the Salem/Newberg area.  We spent a little time at the outlet mall looking for shoes for the kids.  There was a supper/dinner date with some good friends at the Red Robin and I FINALLY found a DVD copy of the Three Amigos at a used DVD store across the parking lot from the restaurant.  I've been searching for that movie for a few years now.  We also visited with a bunch of family including Michelle's grandparents and lots of uncles, aunts and cousins.  (I think the chances are strong of a couple of those relatives being upset that I put the DVD find in front of having a meal with them in this paragraph.)
One of the funny things I noticed in Oregon was my desire to ensure I kept all the receipts of our purchases in order to show the customs guards how much we spent when we went home.  It made sense to me because every time I've shopped in Oregon I've gone home, to Canada.  My brain just wasn't remembering that while I was still visiting Oregon, home was not going to require crossing the border.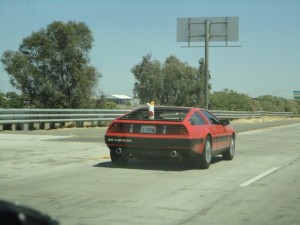 Leaving Oregon we drove all the way to Stockton, CA in a 10 hour day that took us through the northern mountains of California.  Later that evening in the hotel we watched an "Extreme Makeover: Home Edition" that took place in Southern Oregon.  We must've been a little tired because we thought it was super cool that we drove past the places they were mentioning.
That's something I should mention, the fatigue.  Early on in the trip I didn't start feeling the driving until 6 or 8 hours in.  Now I get out of the van after a couple hours and my hips are pretty stiff already.  I'm glad that our last days of driving aren't nearly as long as the first days.  I'm not 100% positive that I can last for many more of these long driving days.
From Stockton we drove all the way to Anaheim but stopped in Fresno to eat lunch with old friends from Mexico.  The last time we saw each other was in Mexico and they said we could come visit them anytime.  I found it slightly humorous that it ended up being in California!  It was a great afternoon and we had a lot of fun eating pizza in a park.
Anaheim (and Disneyland) has definitely been the carrot we have used to motivate the kids to keep going.  And you could see it in their eyes as the days got closer.  They have all been really tired in the past week.  I guess the 10 hour driving days, and going to bed at 10PM while getting up at 7AM has caught up with them.  But yesterday (Monday) morning at 6:30AM when we woke them up, they literally jumped out of bed and got dressed.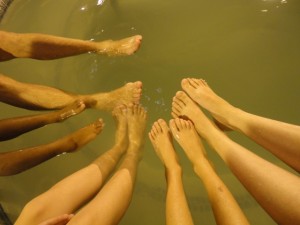 We then proceeded to spend 14 hours in Disneyland.  Dragging ourselves back at 8:30ish, the kids were asleep by 9.  All of us really wanted to stay awake to watch the fireworks but there just wasn't going to be a way for three kids and two parents to all keep liking each other all the way to 9:30.  Especially since today we were back up by 7AM and doing the Disney California Adventure Park for 12 hours.  After two days our feet are beyond sore.  We decided that it wasn't going to be wise to go back to the park for the evening.  No more walking for this family.
We could probably post another entry just for Disneyland, and in fact, I think I will!  Then I can just share little stories and pictures.  Stay tuned for that.  No guarantees on when, but there is a chance it could be tonight!
Tomorrow we're heading out to Phoenix to see some friends and family.  It'll be a short 6 hour drive with the first of two nasty time changes.  Going from west to east kind of messes planning up!  I hear there is a pretty severe heat wave hitting the south.  That's going to be interesting to see how we react to the heat again.
Thanks everyone for your prayers and comments on our Facebook posts.  They are actually very encouraging as it reminds us that people care about us.  Also, we'd like to thank all the people (and there have been a lot) who have handed us cash or similar along the road.  Those gifts have been the most amazing.  Just seemingly random gifts that have had such a huge impact on us.
Thanks
/RD