We've been Alberta for just over a week now.  The weather has become tolerable and the friends have been fantastic!  We've been staying in one place for a week and now that we're  at my parents we won't be staying in any place for longer than 2 nights.  Except in LA, that's a 3 night experience!
Last Sunday Michelle and I spent 12 hours at our Alberta home church and had a great time talking with people and selling Jesus Loves Aliens t-shirts.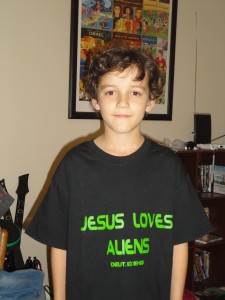 One of the best parts was how often God reminded us of the number of people there who pray for us and care for us. There were some really cool surprise gifts where people just handed us money and lots of others who told us they've been praying regularly.  All of this was quite encouraging.  When you know there are so many people back "home" praying for you it helps during some of the hard times on the job.
Throughout the week we had a lot of different meetings with friends and supporters.  And again, each visit was a lot of fun and encouraging for us.  Thanks to all of you for your support!
We did have a little scare with the van as it decided to run really rough Sunday morning after a hard rain storm.  The power steering is failing but the mechanic feels we can let it go for a little while longer.  But we did have to change out a part that was getting water in and causing issues.  (for the technical minded it was an ignition coil.  Also I did the work all by myself in my father-in-law's driveway.  I think he was offended that I didn't ask him to help but he needs to see that I'm a big boy and I can do some things on my vehicles all by myself.)
(also, I know he'll be reading this and this is my way of telling him while avoiding the unnecessary and possibly unmanly conversation)
We're currently hanging out in Red Deer at my parents place.  We caught up with an old friend last night and talked about ourselves.  Today was hanging out with family and catching up with old friends and talking about ourselves.  There was also an attempt at a fishing outing this morning that was cancelled due to an oil spill.  That's the first time that has EVER happened to us.  The kids were pretty upset until I guaranteed that since it is so rare for an oil spill to happen that they should NEVER have a fishing trip interrupted again.  At least due to oil.
Tomorrow we are hanging out with a bunch of my family and there is a good chance will be talking about ourselves.  Catching the theme of the trip yet?
We'll be heading back to Airdrie tomorrow evening to stay a couple nights.  We'll be leaving Canada on Tuesday to start our trip back to Texas.  But, the trip there will take us through British Columbia, Washington, Oregon, California, Arizona, New Mexico and then all of western Texas.
We've had a few people ask why we're searching for a thimble.  (anyone following us on Facebook should have seen some of my posts about the search)  The quick synopsis is that I promised to find a souvenir thimble for a friend in Texas.  At the time I had never heard of them, but I was sure they must exist if she has a collection.  At Mt Rushmore I saw plenty of thimbles but I need to get one from Canada.
Now that we are in Canada, they are nowhere.  We have been searching plenty of places and have not seen anything.  Various sales people have been asked and most have had no idea that they even exist.  But we will find one.  Oh ya.  It will happen.
And I'm sure once we find one and then buy it, we'll proceed to see them everywhere and for a fraction of the price!  We'll keep you posted.
In the USA, you can help us by visiting www.cten.org/ryandiks.
In Canada, you can do the same at www.ctenc.ca/ryandiks.
Thanks everyone!
/RD