It's August.  So it makes perfect sense to turn around and write something about a road trip that presumably happened in June.  I had to go back and see what was the last thing we wrote, and it turns out that if you really weren't paying attention that you would've thought we were stuck in the oven that is known as Phoenix.  Let's fix that little problem and do a quick summary of the last couple of days of our trip home based on 6 week old memories and the few pictures that we took.  (Have you ever driven from Phoenix to Houston?  There isn't much to take pictures of…)
We definitely were ready to be home as we left Phoenix, but we had two days of driving to do it.  From Arizona we entered into New Mexico but not before seeing what may be one of my favourite irony signs of all time.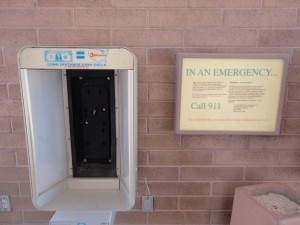 (note: we took a lot of sign pictures this trip.  We may have issues.)
I remember stopping for McDonalds in New Mexico, and that's it.  It was exciting to enter Texas though!  Texas!  Home!  Only that we had to drive from the far west end of "home" to the almost far east end.  Driving through El Paso we literally came within metres of Juarez, Mexico.  The difference between Juarez on our right and El Paso on our left was staggering, even though we knew good and well what Mexico looks like.  I remember saying to Michelle "and people in the US wonder why Mexicans risk their life to sneak into the country and take severely low paying jobs.  They stare across the interstate and see mega-malls, McDonalds and Lexus'."
After El Paso it got boring again.  We pulled into Fort Stockton, TX and laughed that we've stayed in Stockton and Fort Stockton.  One day we'll find out who this Stockton guy was and why he got towns named after him.
On our last day we got to Kerrville, the home of our CTEN head office.  We met up for lunch with the president of CTEN at the Cracker Barrel.  It was the kids first time meeting Jack and they loved him.  I can't say we were all that great at communication because by this time we were very aware that home was about 5 hours away.
And we kept driving on.
It rained in San Antonio.  We looked for the Alamo but couldn't see it from the interstate.  There was no way we were stopping though.  Home was close.
Then we entered the Houston area.  Turned down the Grand Parkway in Katy and knew that the next turn off was to our apartment complex.  So close…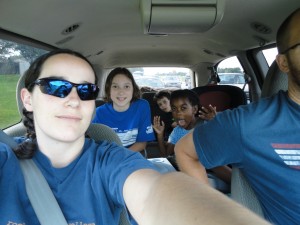 And then it just felt odd to be pulling into our apartment.  We recognized the place but it had been so long.  But we were home!
Funny story, we noticed that the van was starting to have some "issues" as we entered Houston but didn't think much of it.  Then over the next couple of days it started running worse and worse.  Finally the check engine light came on and the van hardly ran enough to get to the mechanic across the street.  He diagnosed that it needed a tune-up since "the wires are completely burnt out and the plugs are rusted solid.  It looks like it they have never been changed and you shouldn't have been able to run for ages. "  When I told him it had only been a couple years since the last tune-up but then mentioned how much we had just driven AND the van had only started running poorly in the last couple of days, he just walked away.  God 1, Mechanic 0.  Unfortunately I still had to pay him $800 to replace everything.  Dang, that hurt.
Some quick thoughts on the total trip:
The trip appeared to be sponsored by McDonalds $1 drinks.  They need to seriously think about what they are doing to us by offering all drinks for that price all summer.  (also, thanks to McDonalds for offering all drinks for that price all summer)
Thanks to Tony and Melissa for house sitting a few times while we were gone.  Also, thanks to Dan for setting off the flea bombs in the apartment to kill off the fleas that were biting us and Tony and Melissa.  Can someone please explain where we got fleas when we don't have pets?
It will be a LONG time before we attempt something like this trip again.  It was too much.  Worth it this time, but not any time soon.
Our kids are amazing.
I just finally lost the weight I gained on this trip. (see the $1 McDonalds note above)
It probably never will register how many amazing places and sites we saw that most people only dream about seeing.  And we did it in 30 days.  Mt Rushmore, the Canadian Rockies, the Space Needle, Mt St. Helens, Disney Land etc.  Nebraska and South/North Dakota do not count in this list though.  Our apologies to them.
Here are a few pictures from the last days of the trip.  And also our extensive sign picture collection.
/RD
[flagallery gid=3 name=Gallery]
Here is the sign collection.  And no judging.  You spend this much time on the road and not find them funny.
[flagallery gid=4 name=Gallery]