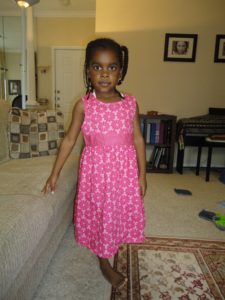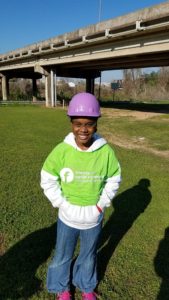 I can remember the night very clearly.  It was five years ago today, well maybe yesterday.  (OK, not THAT clearly.)  Michelle and I had been emotionally struggling for months trying to stay strong while waiting for our hoped for adoptive child.  We had no knowledge if there was a birth mother who had picked us and we knew we had reached the end of our strength.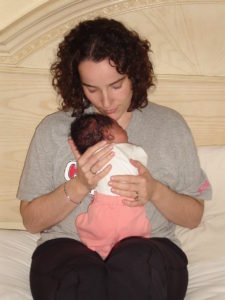 That night Michelle and I talked on the couch for quite some time about the pain we were feeling.  We were spent.  There was nothing left.  So we knelt down on the floor and told God.
"We're done.  Take this away."
We gave up on ever having a third child.  It looked like we hadn't understood the leading of God and we had run off in our own direction.
Fast forward a few nights, and I promise, I remember THIS night very clearly! (mostly)
It was Thursday, March 15.  Michelle was just starting to head out the door to a soccer game.  I was sitting on the couch, most likely watching the Flames blow another important game. And the phone rang.
I checked the caller ID and it was from an area code that I didn't recognize.  But at the same time, I knew I had seen those numbers before.  So I answered the call.
"Hello?"
"Yes, can I speak with Ryan or Michelle Diks?"  The voice had a pretty deep southern "twang".
"This is Ryan."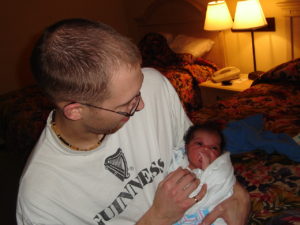 "Hi Ryan, it's Scott from Acorn Adoption.  I have a little baby girl that needs a home…"
(take a guess on how fast my heart started pumping here.  )
Michelle looked at me and says she started shaking when I mouthed the words "It's Scott".
Scott continued, "would you guys be willing to take her into your home?"
"YES!" I "calmly" answered.
"Well, why don't you take some time to pray about it and get back to me?" Scott clearly wasn't getting our side of the conversation.  But we played along, kind of.
"Is she healthy?" I asked but not really caring.  Michelle and I knew that she was ours no matter what.
"Yes" Scott answered.
"Then we'll take her!" 18 months of pain and frustration were melting away.  Rapidly.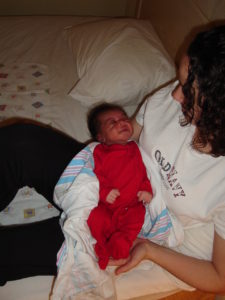 Things moved fast after that.  Scott explained a couple of the details of her history, but not too much.  He said that she was born on March 12 and the birth mother had just signed away her rights.  We were told that we should try to get to Gulfport, MS as fast as we could to take "possession" and be prepared to stay for a while so we could see a judge to get custody.
And on March 17, 2007 we sat down in a hotel room (it was a Best Western!) in Gulfport, MS and called Scott to bring our little daughter to us.  About a half hour later, although it felt much longer, there was a knock at our door.  Scott and the social worker came in carrying a car seat that contained our little miracle.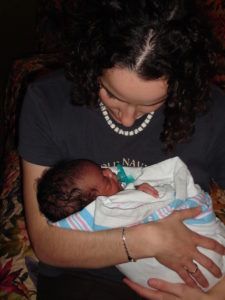 And we got to hold her.
Happy Birthday Katria! We can't believe it has been five years already.  You are a true miracle from God and a visible reminder to NEVER give up hope in His ability and desire to  provide good things.
We would love to hear other people's memories of that time.  A lot of our friends and family were involved in helping us before and after Katria's arrival.  Please feel free to tell all of us about what you remember!
/RD