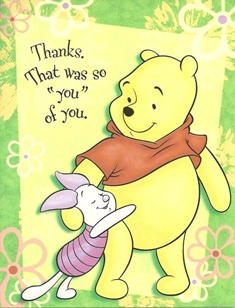 I love this card.  The statement means so many things.  But to me, well, let me explain.  Back in the early part of this month I was thinking about this card.  It has been sitting in a cupboard for a few years, just waiting for a chance to be used. And tonight it finally got it's chance.
So who's the lucky recipient?  It's someone I never doubt will help.  And someone who keeps their promises every time.  And someone who once again is proving that they always will provide for my family.
Ya, it's God.
In early January, Michelle and I were praying and asking for prayers for a few things:
1. My USA visa process
2. the finances to pay for the visa process
3. the finances to be able to make the move to Houston
But with all the praying we never once felt worried.  We didn't have that panicky, worried, stressed out prayer life that so often occurs when you are dealing with big things.  Michelle and I were wanting to demonstrate the difference between prayers that have passion based on fear, and the prayers that have passion based on confidence.  A confidence in God being who He says He is, and a knowledge that He will do what He promises.
We know that God will always provide.  He has never not provided.  In perfect time.  In perfect form.
And once again He has.
You might have heard already that my US visa was approved last week after a trip to Montreal.  We started the process in September and expected it to take 6-9 months.  But instead it's 4.5 months later and I have a visa and can move to the USA.  In fact, I have to move to the USA within the next 6 months!  Um, ok.  I think we can do that.
So that's prayer request #1 taken care of!
Our next concern was the finances to pay for the trips to Vancouver and Montreal.  Also the fees for the visa and all the other related expenses.  It had added up to a large sum.  And once again, the prayers were answered.  Finances have started to come in and it is pretty exciting and humbling to see God move this way.  The trips are now fully paid for from your gifts.  May God greatly bless all who have given so far.  And we will be praying regularly that He does.
Prayer request #2 = answered.  Blammo.
And finally, we're still needing to raise the necessary finances to be able to move to Houston.  And we're already receiving pledges from people willing to support us on a monthly basis.  Again, this amazes us.  We also need support to help us pay the one time costs involved with moving to Houston.  We have a couple of trips to the US in the next couple of months.  First to Port Angeles, WA to visit our (hopefully) new home church in the US.  Then Michelle and I will be flying to Texas to attend an orientation with CTEN, our supporting organization.  After that we will need the finances to move the family and all of our stuff to southern Texas.  All of this will add up.
And thanks to God because prayer request #3 is coming along.  Pledges and gifts are coming in.  And all because people are praying and being obedient to God.  This is going to be an incredible time of watching God do miracles.
That's just what God does.  Anyone who knows God knows Him to be generous.  To be loving.  To always work for the good of those who love Him.  He never ignores our needs and always ensures we are provided for.
So thanks God.  All of these amazing things you've done for us?  All of the things we know you will be doing in the future?
It's so "you" of You.
/RD